Your Diploma Portfolio should show in which areas of Permaculture each design work was carried out. The Permaculture Flower is a holistic concept displaying the seven domains of Permaculture. The evolution of your Permaculture design work often connect these domains.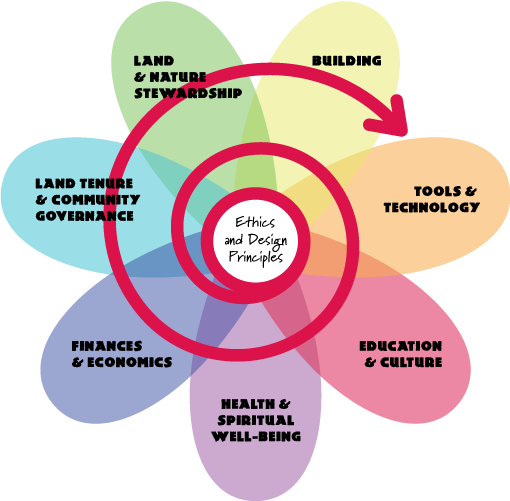 If you already started your Permaculture diploma journey working with the older design categories, that's fine of course. We do encourage you though, to have a look at the Permaculture Flower above, as it is a powerful tool for mapping your holistic approach to Permaculture.  
---
---
Below are the older design categories.
The Diploma Portfolio should show in which category/categories each design work was carried out.
Site Design. Project design and professional design consultation.
Site Development. Designing and working on your own or another site and creating a working demonstration of permaculture in action. Can consist of several designs, implemented on the same site and evaluated over a longer period of time.
Education & Training. Designing and working on curricula, teaching material or courses in permaculture education and training.
Administration & Organizational Design. Directing, conducting or assisting groups, associations and institutes in developing organizational and management practices and strategies for permaculture work.
Architecture, Building & Retrofitting. Designing and building low cost and low energy dwellings and structures. Can include redesign and retrofitting of existing buildings.
System Establishment and Implementation. Designing, setting up and/or operating nurseries, earth moving systems, soil conservation strategies or the supply of goods or services to the permaculture community. Working on the implementation of designed systems.
Trusteeship. Designing, establishing and operating legal structures for the conservation of land ownership for allied organizations, cooperatives, charities or other organizations run for ethical purposes.
Community & Social Development. Designing, planning, assisting with or implementing community development projects, urban systems, villages, or work with disadvantaged groups. Can include establishment and maintenance of ecovillages, permaculture in local communities or communal farms within a bio-regional context.
Research. Designing and creating new research that significantly contributes to the development of permaculture systems and needs. This may be as an 'academic' producing paper, or as a practitioner producing scientific data and reports.
Finance & Economy. Designing, setting up and operating financial systems such as ethical investment, cexchange trading systems, time banks and other financial systems, which can be a functioning alternative to the conventional financial system.
Art, Media, Culture & Communications. Designing, creating or operating publications, websites, other online resources or audio-visual and mixed media aids to communication and education in the permaculture community. Written, creative, artistic, or cultural work that develops the public's understanding of permaculture.
Manufacturing & Tools. Designing and establishing relevant technology, manufacturing processes or tools that significantly contribute to the design and/or implementation of permaculture systems.
Farming and farming systems. Designing and implementation of farming systems, including ecosystem-based farming of annual vegetables, regenerative farming, carbon farming, forest gardens, agroforestry systems and/or Sustainable forestry..
Business. Designing, initiating and establishing new businesses, business models and livelihoods.
Personal Development, "Zone 00", Health and Well-Being. Designing and realizing the Diploma Pathway, personal goals, lifestyle changes, and/or quality of life.